I saw it. Lord have mercy on my soul, I saw
Star Trek
Friday.
There were fist fights, sword fights, starship battles and planets being blown up.
There were jokes and love and rage and humor and I'm-too-cool-to-be-touched-by-you attitude by Kirk and oh-so-that's-your-logic-well-here's-mine-baby from Spock, so ice-cool under fire that you'd swear Mafia hit men would respect him.
There's young Chekhov who brings innocence and earnestness to every scene he gets to speak in and a grouchy McCoy who doesn't let command decisions get in the way of good horse sense.
Other things have changed, but not to anything ugly. Uhura is still a poised professional, but she has more chops than charm now. Scotty is more comedic like Chekhov, but not mockingly so. Sulu is a bit more serious, but his ability to kick butt and help Kirk are welcome sights to behold.
The actor portraying Captain Pike was an admirable, spot-on choice. With calm demeanor, practical wisdom and a steady gaze, you can see how he got Kirk's respect and attention.
Now what's great was how much respect was given to
ST:TOS
- and what is amazing is how deftly Abrams jettisoned all ST baggage logically - we have a FULLY re-booted Star Trek franchise in an alternate universe, kids. We kept the characters and the icons we liked and shook them
well
.
We are not getting a ghost or a rip-off of the old Trek. We are getting Trek back from the grave in a resurrected body. She's alive and the old girl isn't quite the same - and will never be the same again.
That's more thrilling than scary at this point. Banality had slowly quenched the fire of Star Trek. This film lights it all up again like a quart of starter fluid on an old charcoal grill.
FWWoommPP!
(Watch yer eyebrows, boy!)
*sigh*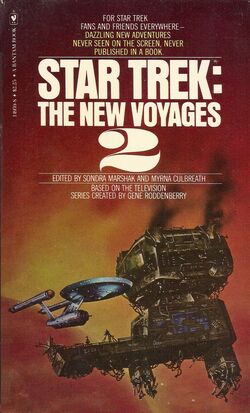 When I was a kid, I
dreamed
of being a part of Star Trek in some fashion: having loving camaraderie with a crew of very talented professionals, sailing the stars faster than light, meeting new civilizations and fighting bad guys. I know all geeks feel the same, but I had a terrible moment in which I had just finished reading "Surprise!" by Nichelle Nichols and Sondra Marshak from
Star Trek: The New Voyages 2
, and was very touched by the crew trying to throw a surprise birthday party for Kirk, even as an alien "pet" had boarded the Enterprise.
The writing showed me not all families had to be dysfunctional. I did not realize it, but I was wanting their fictional community, not "Star Trek"
per se
.
I went outside our small home in Mississippi and looked up at the winter stars. I had an ache in my heart that was something terrible. I was a logical young boy (Spock had taught me to be so), but I wanted or would have given ANYTHING to see the Enterprise in the night sky above me. To be on board her with that crew I loved so much.
C. S. Lewis called this "sehnsucht" - this almost inexpressible longing or hunger for something that was missing.
I found it later, in Christ, in going on my own adventures with Him, in meeting other believers across the globe. Christ gave me peace and truth. Christ gave me a chance to start over, to leave behind banality and experience life anew.
"The human adventure is just beginning" said the old movie poster for
Star Trek The Motion Picture
.
In Jesus, my longing was fulfilled. Not only was I forgiven, but I became an immortal by accepting him and one day will visit the distant stars, according to Romans. But first, Jesus had to heal me, to turn me away from my animal pursuits of shelter, food, sex, etc.
The adventure of
becoming
human was just the beginning. One day it will be completed in a new universe. This is what Paul was referring to in the first verse, I believe.

Romans 8:19-23; 38-39
The creation waits in eager expectation for the sons of God to be revealed.

For the creation was subjected to frustration, not by its own choice, but by the will of the one who subjected it, in hope that the creation

itself

will be

liberated

from its bondage to decay and brought into the glorious freedom of the children of God.

We know that the whole creation has been groaning as in the pains of childbirth right up to the present time. Not only so, but we ourselves, who have the firstfruits of the Spirit, groan inwardly as we wait eagerly for our adoption as sons, the redemption of our bodies...

For I am convinced that neither death nor life, neither angels nor demons, neither the present nor the future, nor any powers, neither height nor depth, nor anything else in all creation, will be able to separate us from the love of God that is in Christ Jesus our Lord.
We are decaying for now, but one day, in the blink of an eye - a new universe will be given us! No decay, no death, no disease.
I cannot wait to see what we will discover there.
Live long and prosper.
Amen.